Reports
This section includes publications that are not confidential and which may be distributed. You'll need the free Adobe Acrobat Reader program to view the PDF files on your computer.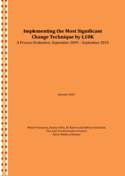 Implementing the Most Significant Change Technique by L10K: A Process Evaluation, September 2009 – September 2010
Since 2009, the JSI-managed Last 10 Kilometers project has been implementing the Most Significant Change (MSC) technique to regularly record qualitative data regarding the progress and impact of project activities. The technique identifies unexpected results and undefined health indicators through interviews with community members about their health and experiences with L10K-supported care provision. MSC was designed to complement the existing quantitative Monitoring and Evaluation tools used to assess project outcomes.

This report presents the process evaluation of L10K's use of the Most Significant Change technique, which was carried out in the months of November and December, 2010. (2012)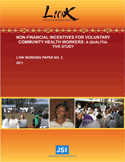 Non-Financial Incentives for Voluntary Community Health Workers: A Qualitative Study L10K Working Paper No. 2
One of L10K's community-based strategies is to ensure the sustained engagement of voluntary community health workers (vCHWs) in the Health Extension Program (HEP) through the implementation of non-financial incentives (NFIs), which aim to strengthen volunteerism among vCHWs. This study utilizes in-depth interviews and focus group discussions to explore the potential efficacy of NFIs proposed by the project. The results of the study describe the factors motivating the vCHWs and concur with the NFIs proposed by the project. It also proposes other NFI mechanisms for consideration. (2011)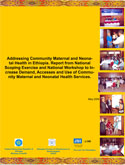 Addressing Community Maternal and Neonatal Health in Ethiopia. Report from National Scoping Exercise and National Workshop to Increase Demand, Accesses and Use of Community Maternal and Neonatal Health Services.
This report was developed following the National Workshop on Addressing Community Maternal & Neonatal Health in Ethiopia, which was held at the Addis Ababa Hilton Hotel, from May 12 to 14, 2009. (2009)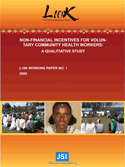 Non-Financial Incentives for Voluntary Community Health Workers: A Qualitative Study L10K Working Paper No. 1
One of L10K's community-based strategies is to ensure the sustained engagement of voluntary community health workers (vCHWs) in the Health Extension Program (HEP) through the implementation of non-financial incentives (NFIs), which aim to strengthen volunteerism among vCHWs. This study utilizes in-depth interviews and focus group discussions to explore the potential efficacy of NFIs proposed by the project. The results of the study describe the factors motivating the vCHWs and concur with the NFIs proposed by the project. It also proposes other NFI mechanisms for consideration. (2009)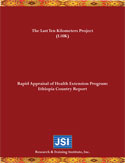 Rapid Appraisal of Health Extension Program: Ethiopia Country Report
The Rapid Appraisal Study was conducted by the Miz-Hasab Research Center in collaboration with L10K in 2008 with the aim to identify evidences that help strengthen the bridge between families, communities, governments, development partners and the HEP in achieving sustainable rural maternal. The information provided in the Report of the Rapid Appraisal Study, was mainly used for the National and Regional Consensus Building workshops organized by JSI/L10K to foster engagement and ownership of the L10K Project at the policy-making level. (2008)