JSI staff in Ethiopia, including those on the L10K project, have come together to raise funds to purchase supplies for areas hard hit by COVID-19. Read more »

Involving communities in planning and monitoring the health care services they use helps improve health outcomes.

The Health Extension Program is the backbone of Ethiopia's primary health care system and is made up of female health extension workers that criss cross their communities daily.
About L10K

The Last 10 Kilometers 2020 Project (L10K 2020) supports Ethiopia's efforts to strengthen a responsive and resilient primary health care system that improves the health status of families and communities through innovative and evidence-informed RMNCH interventions. Read more »
Featured Resource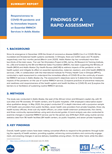 Responsiveness to COVID-19 pandemic and its Immediate Impacts on Essential RMNCH Services in Addis Ababa
L10K has been supporting the Ethiopian Federal Ministry of Health and Addis Ababa City Health Bureau to address impacts of the COVID-19 pandemic on the health system and mitigate its effect on essential reproductive, maternal, newborn, and child health services. In collaboration with...