Features
A change of heart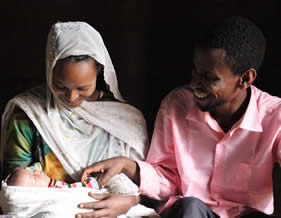 Nefisa Hassen and her husband

Nefisa finalized her preparation of what she needed when the time came to go to Shebe Health Center to deliver her child. The wife of her brother‐in‐law has agreed to come over to her home and take care of her five year old daughter and the household chores. When her labor finally arrived in the middle of the night she called Kassech Bekele the health extension worker of Yanga kebele. Kassech called the driver of the ambulance of the health center and next the midwife nurse to expect Nefisa and prepare in advance for her delivery.
Nefisa Hassen is a 24 year old farmer who lives in Yanga kebele of Shebe Sombo Woreda, Jimma Zone, Oromia region. She had her first child five years ago at home. Her labor was prolonged and it was a difficult birth. Nefisa had prayed that when her time came to deliver there would be no complication that would force her to go the health center. She would not be able to handle the pity of her neighbors for not been able to have a normal birth. Furthermore, she didn't know if her husband would be able to cover the financial cost for transportation and for the services of the facility.
But this time she knew better. Kassech had worked long and hard with her, as she had with most women in her community, in teaching her the benefits of having her child at the health center. So when she was pregnant with a second child and she was into her sixth and eighth month she and her family made plans in preparation for the birth and any complication that may arise and money they may need (though maternal care services are provided free of charge by health centers).
Two weeks after Nefisa delivered at the health center she happily relates how everything went smoothly and swiftly. She was especially impressed with the efficiency of Abdulahi Abaselam, the midwife, and how assuring he was when explaining that for any possible problem that may arise they would be able to handle it. Abdulahi is one of the BEmONC trainees ‐ a training provided by L10K. He was trained in matters that ranged from infection prevention practice and hand washing to severe pre‐eclampsia and breech delivery. He explains that BEmONC intervention has helped him in building his knowledge and clinical skills to respond appropriately to the needs of women during pregnancy, childbirth, postpartum period and the needs of newborns. Moreover, the intervention has also assisted in renovating the ward which was poorly and it provided essential equipment. As a result, not only has the number of mothers delivering at the health center increased but also the number of mothers referred to Jimma hospital significantly dropped.
Dabash Mohammed who is the head of Shebe health center says that since September last year the number of mothers delivering at the health center has double reaching over 50 women/month from 20‐25. The training provided by and supplies and equipment received from L10K has complimented the government's effort and improved provision of BEmONC services. Topping this, friendly health care provided by the health workers has increased the number of mothers seeking health care from Shebe health center.