Features
In this section, you'll find stories of successful L10K Project implementation in the four regions of Ethiopia and the resulting benefits. These features are based on observations from the field, interviews with households, health development army members, andhealth extension workers (HEWs) that were affected by the application of one or more ofL10K's community-based strategies.
Community based nutrition for improved child health
Meseret is a young mother of two children. She visits Ejersa Kubeti health post every month to have her nine months old daughter weighed. Every month, the Health Extension Workers (HEWs) dedicate a couple of days to weighing children under two years of age. Ejegayehu with her colleague Seble have set up eight outreach sites where they carry out growth monitoring and promotion (GMP) activities in the kebele found in Siadbeber and Wayuworeda of North Shoa Zone, Amhara region.
Ejegayehu weighs Meseret's daughter on a salter scale and carefully takes note of the number. Meseret's nine months old daughter weighs 8.8 kg.; Ejegayehu, takes the family health card from Meseret who has come with it, and opens the page to the child growth chart to plot the number. She commends Meseret for feeding her baby well and keeping her healthy. She takes a couple of minutes to advise her to keep this up and finally reminds Meseret to come back next month for the same process.
Meseret leaves the health post happy and satisfied. She says that she has seen the benefits of proper nutrition through her first born who is four years old. In the same way, she explains how she wants to ensure that her daughter is fed well. She prepares a soft porridge (genfo) just as Ejehayehu has taught her by mixing grain with fruits and vegetables. "I feed this to my daughter three to four times a day in addition to my breast milk. Then I make sure that she is gaining weight properly by coming every month to the health post and having her weighed. She has never been sick since she was born,"says Meseret.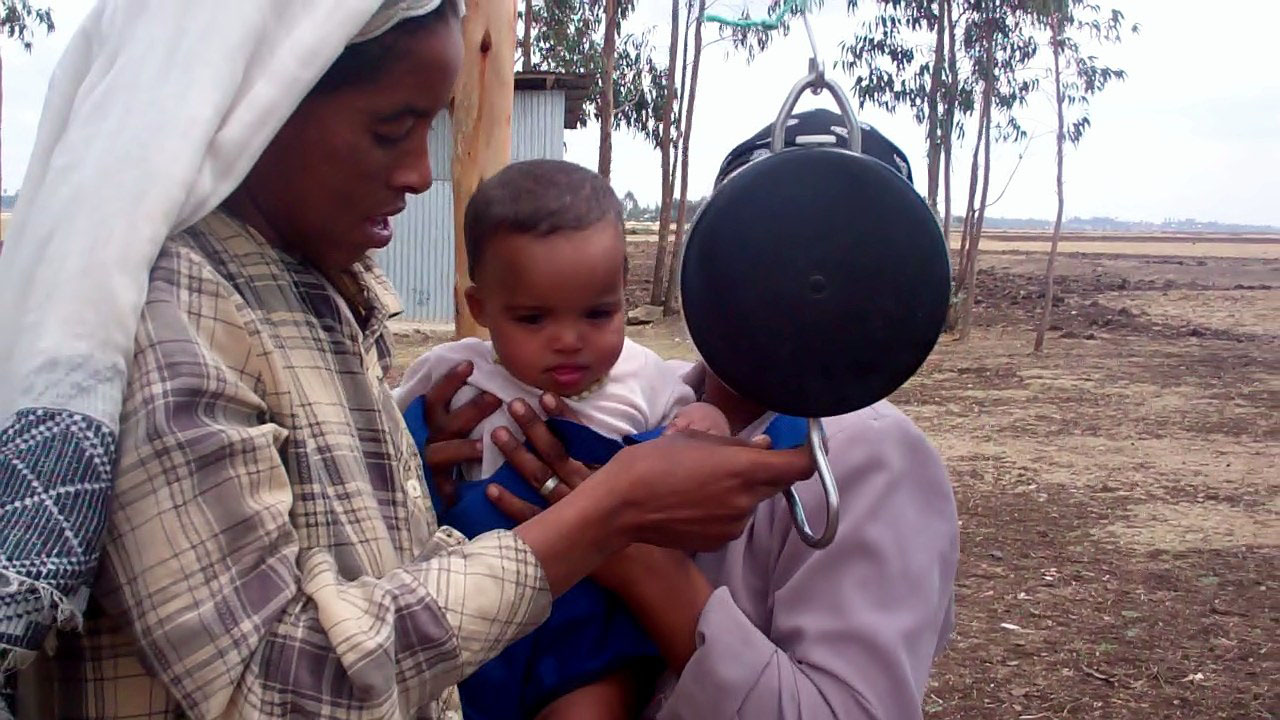 Ejegayehu weighs Meseret's daughter on a salter scale
The HEWs have a growth monitoring wall chart by which to follow up the progress of each child. They closely monitor children every month by referring to their registers and to a growth monitoring chart found in the family health card owned by each mother. Ejegayehu makes sure to counsel mothers on how to improve and maintain a good feeding practice for their children.
The GMP participation rate in the kebele increased from 29% in March 2013 to 98% in March 2014. The Global underweight prevalence reduced from 15% (with 7% being severely underweight) to 1% (and none found severely underweight) during the same period. There were eight children whose Mid Upper Arm Circumference (MUAC) was less than 11cm when an assessment was carried out during the Community Health Days (CHD)conducted in August 2014 but this number reduced to zero at the CHD conducted in December.
Ejegayehu and Seble strongly believe that continuous efforts in raising awareness on child feeding practices, supported by food demonstration and community conversation sessions with mothers and improved GMP participation, can make significant changesin improving child health.
Life-saving treatment close at hand
It was a hot day with an occasional breeze and a perfectly clear blue sky but the health extension workers Hiwot Berhe and Freweyni Tesfaye work tirelessly not minding the heat. There are several mothers who have come to Dedebit health post in search of treatment for their sick children. Located in North West zone of Tigray region in Ethiopia the health post has been providing child health care services for almost three and a half years now to a population of 5710. Since Hiwot and Freweyni took training in integrated Community Case Management (iCCM) four years ago the case load of the health post reached 2382 by the end of 2014 which is a heavy load for a health post.
Dedebit is located 17 kms away from Mai Hanse town which used to be the closest town to get health service. Nonetheless, availability of transportation to the town was a challenge for many families in earlier days when they had to take their sick children for treatment. The road was a dirt road and difficult to travel on. As a result, many parents resorted to traditional treatment found much closer and though some children may recover, most would end up being sicker or even die.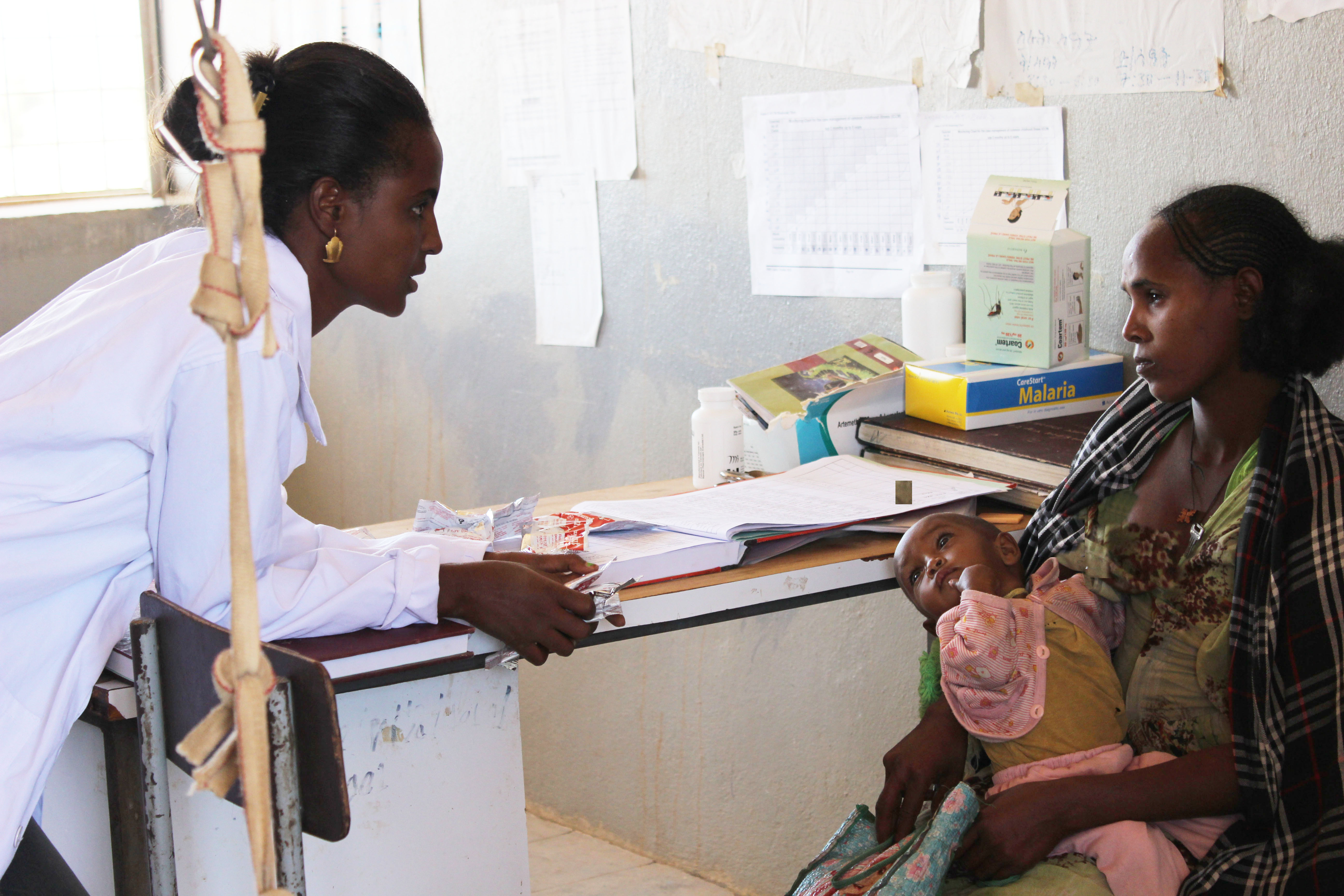 Hiwot Berhe the Health Extension Worker of Dedebit health post,talks to
Ergibaye Gerenchael about her son's condition.

After their iCCM training, Hiwot and Freweyni providedchild health services at their health postand took turns in making regular home visits to treat sick children. The most common childhood sickness they say is malaria, pneumonia, and diarrhea.
Ergibaye Gerenchael is a 19 year old mother with a three months old son. In November 2014 she visited Dedebit health post because her son was sick with diarrhea. Freweyni assessed his situation and advised Ergibaye to give her son oral rehydration salts (ORS) by showing her how and then she provided her with ORS packets and a zinc supplement to take home. Ergibaye is grateful that child health care service is provided at their doorsteps. "If this was not so, we would have had to travel 17 kms into Mai Hanse town to reach the closet health center", she says and continues with a broad smile, "Now we save money and time by visiting the health post instead. We are also more comfortable having our children treated here because we are familiar with Hiwot and Freweni since they visit us in our homes regularly".
Beyond their ability to assess, classify, and manage childhood illnesses these health extension workers today have better acceptance by their community because they provide both preventive and curative services.
Taking out from one pocket and saving it in the other
Delbar Mohammed 43 and Lubaba Sherifa 35 are parents to five children (three girls and two boys). They live in Germama Gale kebele, Dalocha Woreda, Silte Zone of Southern Nations, Nationalities and Peoples' region of Ethiopia. The last child born to them on October 2014 is Hayat Delbar. Her mother, Lubaba is a health development team leader – a community volunteer - who monitors the health status of five households in her neighborhood.
Lubaba is a member of the Germama edir, a traditional community organization set up to assist in times of mourning. She and her husband contribute ETB 10.00 (USD 0.50)/month for the new initiative of the edir which is provision of support for maternal and child health matters. A month after Hayat was born she fell ill. Lubaba took Hayat to Germame Gale health post where Yitagesu, the health extension worker examined her. Identifying her problem as sever pneumonia Yitagesu referred the infant to Dalocha health center. Immediately, Lubaba went over to her edir and requested a loan to cover her transportation and other costs. She was granted ETB 250.00 (USD 12.50). At Dalocha health center the family was again referred to Butajira Hospital in the city. They went there and Hayat was admitted and received treatment for three days before she was released.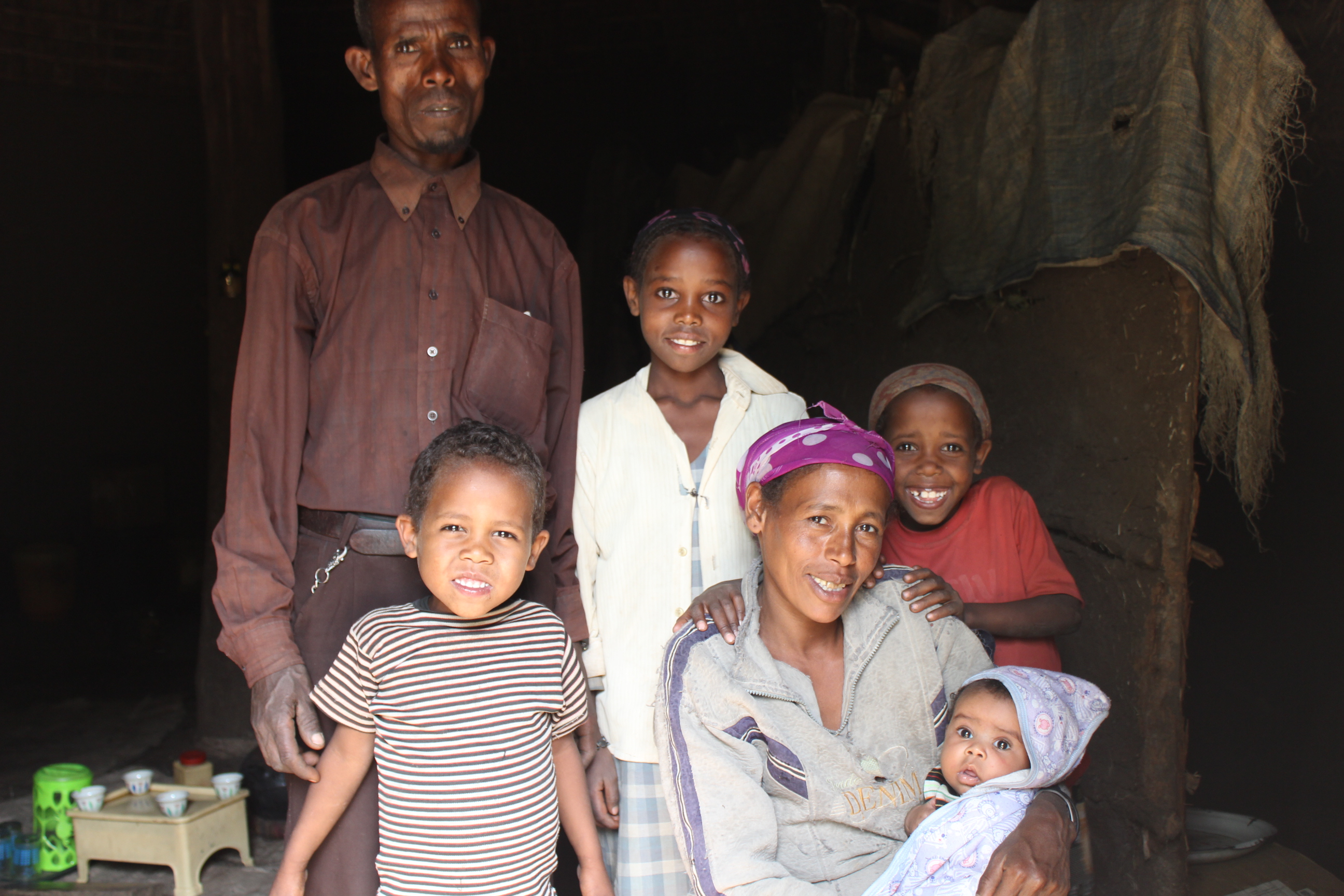 Delbar cannot emphasis enough the benefits of saving for maternal
and child health matters .

Upon return from the hospital Yitagesu was provided feedback by Dalocha health center on the condition of the baby so she went to visit. She made continuous home visits to follow Hayat's condition until the baby was fully recovered. Two months later Hayat made a full recovery and she was quite healthy.
Delbar, the father is very grateful to the edir after seeing its benefits. He says, "I now understand how easily we have saved the life of our child by taking out money from our other pocket. The edir is like our other pocket. Had it not be for our edir saving I would have had to sell my cattle as a last resort which would have meant severely puncturing our limited income".
Delbar also said that he was especially happy with the referral system that facilitated speedy provision of health service. He appreciated the treatment they received particularly at the health center. The health workers guided them on what to do and where to go which in previous times was usually the most difficulty information to get.