About L10K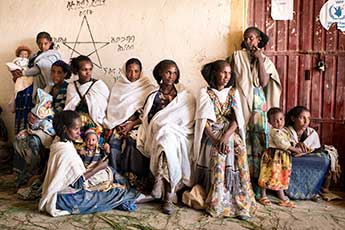 The Last 10 Kilometers 2020 Project (L10K 2020) (2015-2020) supports Ethiopia's efforts to strengthen a responsive and resilient primary health care system that improves the health status of families and communities through innovative and evidence-informed reproductive, maternal, newborn, and child health (RMNCH) interventions. Implemented by the JSI Research & Training Institute, Inc. with funding from the Bill & Melinda Gates Foundation, L10K 2020 operates in four of the most populous regions of the country: Amhara; Oromia; Southern Nations, Nationalities, and Peoples (SNNP); and Tigray.
While Ethiopia has made impressive gains in RMNCH outcomes, there are still challenges related to the quality of service delivery and the use of data. Addressing these challenges requires systems-level solutions. To build the capacity of Ethiopia's health system and ensure optimum coverage of high-impact RMNCH interventions, L10K 2020 is working with the Federal Ministry of Health, regional health bureaus (RHBs), zonal health departments (ZHDs), and other regional partners to ensure quality service provision, increase equity in the health system, and strengthen data for decision making. L10K 2020 has supported the RHBs and ZHDs to create Centers of Excellence as model health care delivery systems at all levels from households to general hospitals. At these centers, practitioners receive hands-on training in clinical settings and work with RHB leadership and other stakeholders to design, test, and scale innovative approaches to providing RMNCH services. In all its work, L10K 2020 makes sure communities play a central role in prioritizing problems and identifying context-appropriate solutions.
The first phase of the project, The Last Ten Kilometers: What it Takes to Improve Health Outcomes in Rural Ethiopia (2007-2015), mobilized families and communities to take charge of their own health. L10K strengthened the delivery of health services through engagement with families and kebeles (villages) to improve health norms in communities. L10K complemented the Government of Ethiopia's Health Extension Program (HEP) to jointly achieve sustainable reproductive, maternal, neonatal and child health improvements at scale. This phase of the project was supported by the Gates Foundation, with additional funding from USAID and UNICEF.
L10K's regional offices are located in Bahir Dar, Amhara; Mekelle, Tigray; Hawassa, SNNP; and in Addis Ababa for Oromia. The L10K central office is located in Addis Ababa.