About L10K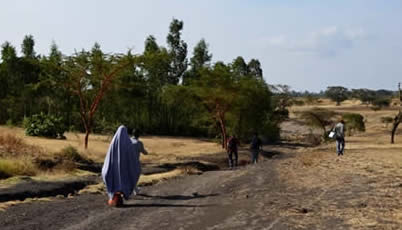 A health extension worker on her way to visit a household.

The Last Ten Kilometers: What it takes to improve health outcomes in rural Ethiopia works to strengthen the bridge between households and the primary health care unit (PHCU), Ethiopia's basic health service delivery structure. The aim is to improve high impact maternal, neonatal and child health (MNCH) care practices among the rural households and contribute towards achieving child and maternal health related Millennium Development Goals 4 and 5, decreasing child and maternal mortality rates.
WHO WE ARE
L10K is a project implemented by JSI Research & Training Institute, Inc., with grants primarily from the Bill & Melinda Gates Foundation and with additional funding from UNICEF and USAID. L10K works closely with the Ethiopian Government, and other development partners, and provides technical and financial support to 12 civil society organizations.
WHAT WE DO
L10K's Platform Strategy
With funding from the Bill and Melinda Gates Foundation, the L10K platform strategy in the 115 woredas (districts) enhances the interactions among frontline Health Extension Workers (HEWs) and Health Development Army (HDA) members, households, and communities to ensure that more, better, cost‐effective and equitable maternal, newborn and child health services are provided by the PHCU. L10K provides tools and skills to HEWs to work with their communities by organizing and utlizing the HAD network. It strengthens primary health care units by building the capacity of health workers and enabling health facilities to provide quality MNCH services.
Key L10K platform strategies include:
Community Based Data for Decision Making (CBDDM)
The CBDDM approach fosters partnerships between the grassroots public administration, HEWs, local institutions, and HDAs in order to gather information to identify gaps in the utilization of MNCH services and to facilitate community actions for solutions. Read more
Family conversation for improved care seeking
Family conversations promote key health messages to improve uptake of maternal and newborn health services including birth preparedness and complication readiness. The family conversation, which brings the pregnant mother and key decision makers within her family and environment together, is led by the HDA member with support from the HEW immediately after the identification of the pregnancy. The conversation continues through antenatal care (ANC), labor, delivery and the postnatal period.
In addition to the platform strategy, L10K implements community- based strategies for evidence- based spread and scale-up.
Participatory Community Quality Improvement (PCQI)
The PCQI approach encourages partnerships between communities and service providers to create shared responsibility in the ownership of MNCH services provided by the health extension program in order to improve quality from the provider, client and community perspectives. Read more
Referral Solutions
In order to put in place context specific "active management of referral," communities and other health stakeholders map existing referral networks, identify bottlenecks for referral, and develop a common action plan which is then implemented for evidence‐based spread and scale. Read more
Integrated Case Management of Childhood Illnesses (iCCM)
With funding primarily from UNICEF as well as from USAID and based on the National Implementation Plan, L10K engaged in: i) Training HEWs, their supervisors and woreda focal people in ICCM; ii) Strengthening the health system through supportive supervision, data management, and ensuring availability of supplies and logistics; and iii)Improving the care‐seeking behavior of communities. Read more
Basic Emergency Obstetrics and Newborn Care (BEmONC)
In addition to improving early care seeking behavior, L10K is engaged in: i)Training health workers at the health center level in BEmONC; ii) Improving the quality of care and; iii) Strengthening health systems through supportive supervision and using data for decision making. Read more
Community Based Newborn Care (CBNC)
In partnership with the Government L10K supports the implementation of CBNC by building the skills of health extension workers to ensure continuum of care including management of newborn sepsis. This helps to prevent complication and enable early detection and appropriate management of problems. Read more
Expanded Program on Immunization (EPI)
This program is a disease prevention activity aimed at reducing illness, disability, and mortality caused by diseases which could be prevented by immunization in childhood. This Program provides vaccines against six diseases which are not only preventable but can also be eradicated. Read more