L10K Approaches
L10K Vision
• Families capable of changing their own health practices and sustaining those changes by fully participating as model families, model kebeles, and vCHWs in the HEP.
• Removing impediments to families using the available tools to improve their health.
• Strengthening the HEP by focusing on the bridge between households/kebeles and the formal health system.
• Increasing links between the HEP, health centers, and woreda health office staff.
• Documenting the steps necessary to take a national kebele health program, at scale, to new levels of effectiveness and to share these steps with other countries.
• Household and kebele input helping the national health system address specific issues of quality, efficacy, and equity of health services.
Why the Last 10 Kilometers?
Fifty percent of Ethiopia's population lives 10 kilometers or further from a health facility. This has resulted in only 15% of births in Ethiopia to be attended by a skilled health provider at a health facility. From out of the number of home deliveries, 22% state that the facilities are either too far or they do not have transportation (EMDHS 2014). Hence, this contributes to a maternal mortality rate of 497/100,000 live births and neonatal mortality rate of 29/1,000 live births (www.unicef.org)
L10K, a Bill & Melinda Gates Foundation flagship project, is also funded by UNICEF and USAID. The Project tests and scales-up successful community solutions for maternal and neonatal health while working to improving demand for and quality of health services. L10K aims to improve access and utilization of high impact reproductive, maternal, newborn and child health intervention in the four most-populous regional states of Ethiopia: Amhara, Oromiya, Tigray, and Southern Nation's, Nationalities and People's (SNNP) regions. Its goal is to strengthen the bridge between households and Primary Health Care Unit, Ethiopia's basic health service delivery structure.
Why Target Households and Kebeles?
For several years, the Government of Ethiopia and health groups working in the country have recognized the importance of the health extension program (HEP) to improve reproductive, maternal, newborn, and child health (RMNCH). The HEP's strategy of engaging people to improve behavior in their respective households first and then their kebele with support from health extension workers (HEWs) is proving highly effective. The L10K project is encouraging families and health development army (HDA) members to work with HEWs to address barriers to quality health services and to mobilize resources to increase the availability of household-level health services.
Using Communities as Tools for Health Outreach
Households and communities are potential human resources for health and, as such, underutilized. L10K is designed to mobilize families, and communities to engage in a sustained manner to produce better health for their families. It does so through community-based strategies that aim at enhancing interactions among frontline health extension workers (HEW) and health development army (HDA) members, households and communities. L10K works further to strengthen the bridge between households and the primary health care units – Ethiopia's basic health service delivery structures. To realize this, the following community based strategies are applied:
COMMUNITY BASED DATA FOR DECISION MAKING
Improving Health Care Practices
WHAT IS CBDDM?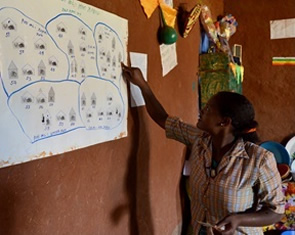 A health development army team leader can follow
up the health status of households by reading her
community map
A based strategy that serves as L10K's platform strategy to strengthen community based reproductive, maternal, newborn, and child health.
A simple surveillance mechanism that gathers data on household health practices: information to identify maternal and neonatal health service utilization.
An approach that maps collected data in a visual form to enable Health Development Army members (HDA - community volunteer mostly female health workers) follow up on households.
A strategy that fosters partnerships among public administrators, Health Extension Workers (HEWs), local institutions, and HDAs to identify gaps and facilitate community solutions to health problems.
An approach that promotes community participation in planning and monitoring activities.
WHY CBDDM?
To enhance interactions among Health Extension Workers, Health Development Army leaders and households through identification and follow up of households and mothers for reproductive, maternal, newborn and child health services.
HOW DOES CBDDM WORK?
HDA team members are organized into a group of 30 households with further smaller divisions (1 to 5 network) and each smaller group is led by model families.
Data is gathered by HDAs and mapped in visual form using pictorial stickers indicating the presence of pregnant women, latrine, family planning users, etc. in households.
Informed by the map/data the health development team leader makes regular household visits to promote health behavior and practices.
The map is regularly updated to reflect the change of events in the household.
PARTICIPATORY COMMUNITY QUALITY IMPROVEMENT
Improving quality Health
WHAT IS PCQI?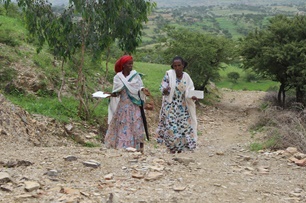 Quality Improvement team members ensure that
community solutions such as building inner roads
to facilitate transportation to and from health facilities,
are properly implemented – they go out and evaluate
An approach adopted from different quality improvement approaches such as Partnership Defined Quality, Community COPE, and Community Score Card.
Innovative community based strategy bringing households, communities, and health facilities closer.
A strategy enabling communities to take responsibility in producing and maintaining their own health.
An approach that improves the quality of health care services from the provider's, client's and community's perspectives.
WHY PCQI?
To improve the quality of community maternal and neonatal health care services through active participation of the community and providers and thereby improve use of high impact maternal and neonatal services for greater maternal and newborn health outcomes.
HOW DOES PCQI WORK?
PCQI identifies main bottlenecks and barriers to access and quality of services through a discussion forum called, 'explore quality meetings'.
Identified problems are discussed , solution forwarded and action plan developed on a regular forum referred to as: 'bridging the gap workshop'.
Implemented activities, as per the action plan, is followed–up by a quality improvement team (made up of members from the community and health facilities).
EARLY CARE SEEKING AND REFERRAL SOLUTIONS
Improving Outcomes of Reproductive, Maternal, Newborn, And Child Health Care

WHAT IS ECSRS?

Health extension workers refer mothers to the health

centers to deliver and by providing them with a referral

slip they not only facilitate the referral but also follow up

on the mother's progress.
Early care seeking and referral solutions is an intervention designed to improve effective care-seeking and referral by engaging communities.
Through the process of community engagement coming up with innovative solutions that increase effective referral.
WHY ECSRS?
To improve care seeking behavior for maternal and newborn services which is evidently low especially for skilled birth attendance and postnatal care.
To bring about high impact maternal, newborn, and child health care practices and thus contribute to the effort of reducing child and maternal morbidity and mortality.
HOW DOES ECSRS WORK?
Communities and health care providers at different levels come together to identify barriers and map community resources for early care seeking and referral.
Innovative solutions are drawn through a consultative process which involves members of the community and staff of health facilities (from health posts to hospitals).
An active management of solutions for care seeking and referral is put in place. This means placing a focal person within the primary health care units (health centers) to coordinate and manage daily referred activities.
BASIC EMERGENCY OBSTETRIC AND NEWBORN CARE
Improving Access To And Quality Of Maternal Health
WHAT IS BEmONC?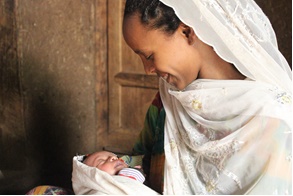 Nefisa is a happy mother who delivered at the health
center and was pleased with the treatment and service
she received there
Basic Emergency Obstetric and Newborn Care service is a set of intervention that helps to manage complications of pregnancy which are the major causes of maternal deaths.
It is an intervention that enhances health facility readiness to handle maternal and new born health care emergencies.
WHY BEMONC?
To ensure the intervention of skilled health care at all times during childbirth since all pregnancy is at risk of complications.
To significantly reduce maternal and neonatal mortality rates by ensure availability and utilization of proven interventions.
HOW DOES BEMONC WORK?
Rapid facility need assessment is conducted to identify gaps and barriers to access and utilize quality care.
Pregnant women are identified (through L10Ks platform strategy – Community Based Data for Decision Making) and linked to health facilities for antenatal care and delivery.
Capacity of health care providers are enhanced:

Midwives, health officers and nurses engaged in maternal, newborn, and child health in health centers are trained on quality basic obstetric care services.
Health Extension Workers (HEWs) are trained in clean and safe birth at health posts.
Provision of required supplies and equipment for emergencies and obstetric care is made to health centers.
Renovation of maternity units is made for enhanced health facility delivery service.
INTEGRATED COMMUNITY CASE MANAGEMENT OF COMMON CHILDHOOD ILLNESS
Accelerating The Reduction of Mortality of Children
WHAT IS ICCM?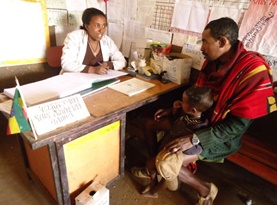 A father benefits from the accessible live saving
treatment for children
Integrated Community Case Management of common childhood illness is a strategy to reduce mortality of children under-five years of age.
It is an intervention that helps to manage common, preventable or treatable childhood illnesses, namely pneumonia, malaria, diarrhea, severe malnutrition and ensure assessment and referral of newborn.
WHY ICCM?
By extending case management of childhood illness beyond health facilities and bringing treatment closer to home, more children will have access to lifesaving treatments.
HOW DOES ICCM WORK?
Building the skills of Health Extension Workers (HEW) and health workers working at health posts and health center levels respectively to correctly assess, classify, and manage common childhood illnesses.
Building the skills of supervisors to properly mentor, supervise, and coach HEW on the management of sick children.
Supporting regular follow-up visits, progress reviews, refresher trainings and supportive supervisions that ensure maintenance of quality service for sick children.
Ensuring uninterrupted supply of essential drugs and supplies for ICCM at health posts.
Orienting health development army on ICCM so they may conduct surveillance of cases and refer for treatment.

COMMUNITY BASED NEWBORN CARE
Improving Survival Of Newborns
WHAT IS CBNC?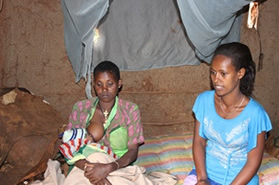 Health extension workers are trained in newborn care in addition to their ICCM training which they say is a big help in reducing infants mortality
Community Based Newborn Care is a strategy designed

to improve the survival of newborns and reduce newborn and child mortality.

It is a national newborn care package applied along the continuum of care (pregnancy to post pregnancy) and an intervention to be carried out by frontline health workers/community health workers.
WHY CBNC?
Ninety percent of babies born in Ethiopia are born at home unassisted by skilled health professionals. Health care for newborns is not provided nor are there adequate newborn care seeking practices.
As a result, neonatal (first 28 days of life) mortality is at 37 deaths/1000 live births (EDHS 2011) and accounts for 63% of all infant deaths and 42% of all under-five deaths.
HOW DOES CBNC WORK?
Strengthening Primary Health Care Units (PHCUs) approach and the Health Extension Programmme, in delivering quality maternal, newborn and child health services through efficient and effective linkages between health centers and health posts.
Building the skills of health extension workers to improve the 4 C's across the continuum of care from pregnancy to post pregnancy and newborn including newborn sepsis management, i.e.
Contact with the mother and newborn;
Case-identification of newborns with signs of possible severe bacterial infection;
Care, or treatment that is appropriate and initiated as early as possible; and
Completion of a full 7-day course of appropriate antibiotics.
Providing orientation to health center staff on CBNC so they will be able to efficiently manage newborns and support HEWs.
Training health workers in Integrated Management of Neonatal and Childhood Illness (IMNCI). and Basic Emergency Obstetric and Newborn Care (BEmONC) tostrengthen the capacity of health centers in providing quality maternal, newborn and child health services.
Strengthening logistics and information systems within the PHCU context.
Improving maternal and newborn care practices and care seeking through HDAs and other existing effective community mobilization mechanisms.
NUTRITION IN COMMUNITY REPRODUCTIVE MATERNAL, NEWBORN, AND CHILD HEALTH
Putting An End To Child Malnutrition
WHAT IS CBN?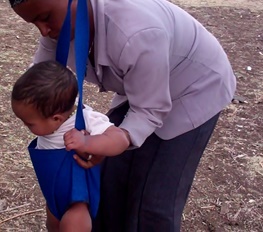 As part of the growth monitoring and promotion activity, weighting infants on a salter scale is regularly carried out by the health extension workers to ensure healthy growth of children
Community Based Nutrition (CBN) is a way of strategically addressing food insecurity and consumption of unbalanced nutrients to tackle problems of malnutrition.
It is an intervention that empowers communities to provide the best possible care to children through regular growth monitoring and promotion followed by maternal counseling on feeding of children especially under two years of age and proper nutrition for newborn (early initiation of breast feeding, exclusive breast feeding and complimentary feeding), community mobilization/conversation and demonstration on preparation of complementary feeding.
WHY CBN?
Regular assessment of a child's nutritional status and analysis of underlining problems of underweight help to maintain healthy nutritional status of children.
Improving mothers' knowledge about good health and nutrition practices prevents the long term effects of malnutrition and consequently child mortality.
HOW DOES CBN WORK?
Health Extension Workers promoting nutrition at community level by raising awareness on child nutrition issues, conducting monthly growth monitoring and promotion activities and providing maternal counseling and follow up through the family health card.
Building the capacity of local civil society organizations, Primary Health Care Unit staff and Health Extension Workers (HEWs) on nutrition information system.
Providing on-site mentoring and coaching of HEWs and health center staff through supportive supervision.
Supporting woredas to conduct regular review of performances of monitoring and promotion of child growth, improving breast feeding and complementary feeding, and provision of nutrition education and communication for behavioral change.
EXPANDED PROGRAM ON IMMUNIZATION
Improving Child Survival
WHAT IS EPI?
The Expanded Program on Immunization (EPI) is a disease prevention activity aimed at reducing illness, disability, and mortality caused by diseases which could be prevented by immunization in childhood.
Globally, EPI was first commenced by targeting diseases which cause ailments, disabilities, and deaths of millions of children each year.
The Program provided vaccines against six diseases; today in Ethiopia EPI provides vaccine against ten diseases routinely. The diseases are not only preventable but can also be eradicated.
WHY EPI?
Immunization is one of the most successful and cost effective health interventions. It has eradicated small pox, lowered the global incidence of polio by 99.9 % and achieved dramatic reductions in illness, disability, and death from diphtheria, tetanus, whooping cough and measles.
HOW IS EPI LINED WITH OTHER L10K'S WORK?
EPI is integrated into one of L10K's existing community based strategy - community based data for decision making (CBDDM) which is a mapping tool.
L10K's EPI intervention helps in increasing access, demand, and utilization of immunization service and in providing potent vaccines to children in targeted zones.
It supports demand creation at community level in low-performing woredas thorough integrated refresher training and use of media;
It supports reduction of bottlenecks that prevent access to quality immunization services; and
It supports the health system to enhance immunization services.
ACTIVITIES
L10K's EPI intervention is implemented in 7 zones, 64 Woredas, 229 health centers, and 1036 health posts.
Base line survey has been carried out and the results have been used to prioritize woredas and health facilities.
Tools and guidelines, which complement those of the Ethiopian Federal Ministry of Health, have been updated, developed, and elaborated.
Support has been provided to two rounds of polio and one round of meningitis vaccination campaign; advocacy and awareness creation meeting has been held, reach every district (RED) approach training and micro-planning, and immunization in practice training has been provided to 90% of the woredas and 225 health facility heads and focal persons (till April 2015).