L10K Project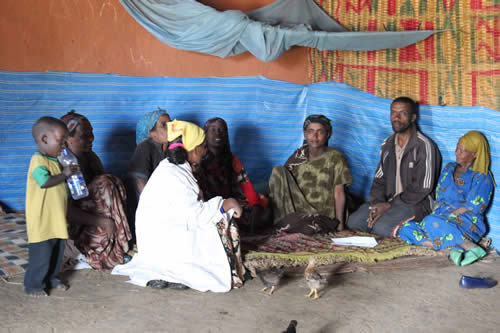 Health extension worker holding family conversation session in a household
The Last Ten Kilometers (L10K) project was created to address the severe human resource deficits in Ethiopia's health service delivery system. L10K, a technical support and grants project initiated in October 2007, was designed to support the health extension program (HEP) to improve high impact reproductive, maternal, newborn, and child health (RMNCH) care behavior and practices and contribute towards achieving the country's maternal and child mortality reduction targets for 2015 (i.e., the Millennium Development Goals 4 and 5).
Project Goal
Strengthen the bridge between households and the primary health care unit (PHCU), Ethiopia's basic health service delivery structure. The aim is to improve high impact maternal, neonatal and child health (MNCH) care practices among the rural households to decrease child and maternal mortality rates.
Project Intervention Areas
L10K is implemented in 215 woredas in the four most populated regions of Ethiopia ‐ Amhara, Oromia, Tigray, and the Southern Nations, Nationalities and People's (SNNP) regions. L10K covers a population of about 25 million people, 30% of the total Ethiopian population.
L10K Project Grantees
Region

Grantee

Amhara

Amhara Development Association

SNNP

Ethiopian Kale Hiwot Church Central Office

Silte Development Association

Keffa Development Association

Sheka Peoples' Development Association

Bench Maji Development Association

Oromia

Fayyaa Integrated Development Association (FIDA)

Illu Women and Children Integrated Development

Oromia Development Association

Tigray

Relief Society of Tigray (REST)