Features
L10K supports Ethiopia's response to the COVID-19 pandemic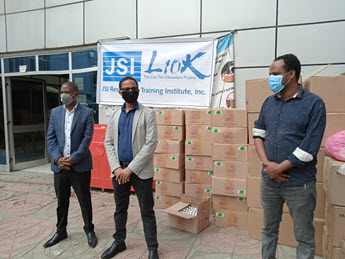 With funds from the Bill & Melinda Gates Foundation, the Last 10 Kilometers project (L10K) is supporting the Ministry of Health (MOH) and Addis Ababa Regional Health Bureau (AARHB) to respond to the COVID-19 pandemic in Ethiopia through the Urban Health Extension Professionals COVID-19 Readiness while Maintaining MNH Care (Addis Ababa Pilot). L10K's support will strengthen the capacity of AARHB to respond to the COVID-19 pandemic and work to minimize the impact on maternal and newborn (MNH) service uptake during the COVID-19 response.
L10K, in collaboration with other partners, is working with the AARHB to implement a house-to-house COVID-19 syndromic screening strategy through the Risk Communication and Community Engagement (RCCE) teams led by the urban health extension workers health center and security staff. The RCCE teams screen households for symptoms, identify and link suspected cases to a Rapid Response Team for isolation and testing, and promote COVID-19 prevention behaviors to families and individuals. L10K collaborated with other JSI projects, Digital Health Activity and Data Use Partnership, to support the development of a digital house-to-house data collection tool for case surveillance and job aid for the RCCE teams. To help equip the RCCE teams, L10K provided the AARHB with 230 infrared thermometers, 3,000 units of sanitizer, 60,000 surgical masks, 6,000 mobile phone cards, and three laptops.
To assess the immediate effects of COVID-19 on the continuity of essential maternal and child health care services, L10K, in collaboration with the International Institute for Primary Health Care-Ethiopia, conducted a rapid assessment in selected areas in Addis Ababa; Amhara; Oromia; Tigray; and Sothern Nation, Nationalities, and Peoples regions. The assessment showed the uptake of antenatal and postnatal care services, as well as treatment for child acute respiratory infections, has decreased. Possible reasons for the decrease in uptake include diversion of supplies and staff to the pandemic response, facility closures, and restrictions of movement. Both clients and health care providers also expressed their fear of contracting the virus from each other, which has impacted families' care seeking behavior. Based on these outcomes, L10K is working with partners to develop appropriate messages to promote continuity of care and to address fear and stigma against health workers and people with COVID-19.
For more on L10K's support for Ethiopia's COVID-19 response, see Ethiopia Maternal and Child Health Work in Time of COVID-19 Featured by EWEC.