Features
Saving Fentiya's son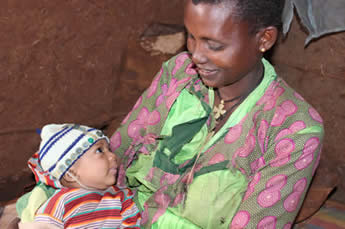 As a vCHW in a CBDDM target woreda, Dejyetnu uses a
Pregnancy, Delivery, and Child follow-up checklist.
(Photo: B. Gelaw)
Fentiya Asmare went to Jabi Genet Health post with her three week old son to have him examined by Mulualem Wubliker, the health extension worker. Mulualem examined him and observed that he does not move unless he is touched, he has severe chest in-drawing and fast breathing. Moreover, he has high fever; Mulualem was worried by his condition and gave him pre-referral amoxicillin and gentamycin before referring him to the health center located 5-6 kms. away. She tells Fentiya to take her son immediately which Fentiya does accompanied by her husband and other family members. At the health center they observe the severity of the infant's condition and further refer him to the hospital in the closest town – Debre Markos. But Fentiya has now given up hope. Though her family members insist that they go to the health facility in town, Fentiya has decided to take her infant home and let him die in piece there, believing that he won't make the trip.
The following day Mulualem, drops in to ask after Fentiya 's son and the mother tells her what happened. Mulualem decided to try all she can before giving up and so starts him on treatment by giving him amoxicillin and gentamycin for seven days. The infant gradually shows improvement and finally gets well after one week. Today he is two months old when his mother tells us this story of a life saving initative taken by a brave young woman - Mulualem.
Jabi Genet health post is found in Debre Elias Woreda, East Gojjam Zone of Amhara region, and is the Zone where L10K's Community Based Newborn Care initiative was first implemented in October 2013.