Features
How a community worked to improve the quality of health services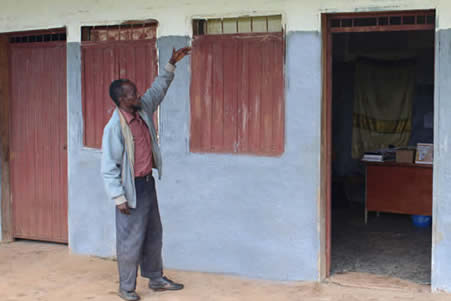 Ato Awel QIT member showing the renovated Mendera HP
Mendera is a community found in Limmu Woreda of Jimma Zone in Oromia region of Ethiopia. Most women in this kebele used to deliver their babies at home unless there was a complication which would force them to seek medical assistance from a health facility. Provision of health care services by the primary health care unit - Limmu Genet Health Center and Mendera Health Post - was limited. The health center was under equipped and had only a small number of skilled health workers. The health extension workers (HEWs) of the health post used to work for only short hours in a day and a few days in a week.
Taking the situation into consideration, L10K introduced its community intervention – Participatory Community Quality Improvement (PCQI) to Mendera community to improve the quality of health care services. It first set up a discussion forum called 'explore quality meeting' and the community identified main bottlenecks and barriers to the access and quality of health care services. This was followed by identifying solutions and developing an action plan through another forum called 'bridging the gap workshop' and setting up a quality improvement team (QIT) to follow implementation of activities.
One of the major problems identified by Mendera community was the limited provision of health care services by the health post. So, soon enough renovation was carried out and a residence for the HEWs was built close by allowing the health post to provide services 24 hours a day and seven days a week. The HEWs started to work more closely with health development army members. They gathered information on the health status of each household and regularly followed up pregnant women. Before long, the number of home deliveries significantly reduced. According to Abebe Desie, Deputy Head of Limmu Genet Health Center, in 2013/2014 over a 12 months period the number of women who delivered at the facility increased to 418 as compared to the previous year where only 4 women delivered over the same period of time. Fatte Sherif who is one of the HEWs said that, a law enacted by the community also helped reduce home deliveries. The community declared that a woman who has delivered in her home will not receive the traditional blessing by the community elders.
Today Mendera kebele has a well-designed health plan and budget which is owned by the Kebele Council. Community members make their own contribution in complementing the budget to ensure that their maternal and neonatal health care needs are met. For instance, a total of ETB 7385.00 (USD 369.25) was raised by the community to build a maternity waiting room for the health center and ETB 6000.00 (USD 300.00) to purchase 6 stretchers to transport pregnant women from their homes to health facilities (where ambulances are not available). In addition, ETB 17,000.00 (USD 850.00) was raised for the renovation of the Mendera health post and the construction of the residence for the HEWs.
Mendera has earned recognition and other kebeles are taking lessons on how to take responsibility for their own health and how to improve quality of health services. Health workers like Fatte say that they now do more meaningful work and they receive better support than ever from all the different levels.