News
This section presents project news and events in reverse chronological order (most-recent news first).
L10K project evaluation
The L10K Project was initiated in October 2007 to support the health extension program of the Ethiopian government to improve reproductive, maternal, newborn and child health (RMNCH) care behavior and practices. Operating as a five-year project, L10K reached its project time line in 2012. However, receiving supplemental fund and based on its learnings from this period, L10K extended for two more years – up to 2015.
Region

Zone

Woreda

Health Center

Health Post

TIGRAY

North Western

La'ilay Adiyabo

Adidaro

Mai Anbesa

South Eastern

Samre

Gujit

Hinsa

AMHARA

West Gojam

Denbecha

Denbecha

Gudber

North Shoa

Debresina

Debresina

Sina

SNNP

Bench Maji

Sheko

Sheko

Gayzega

Sheka

Yeki

Kubito

Ermich

OROMIA

Jimma

Shebe Sombo

Shebe

Yanga Dogoma

West Wollega

Nedjo

Amuma Yabel

Kilto Mako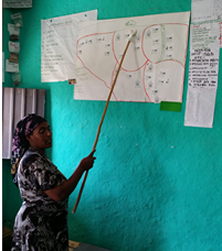 A Health Development Army Team Leader
explains how she carries out her daily work

With plans of initiating a new phase but before moving into this phase, L10K requested the Federal Ministry of Health to evaluate its Project and field trips were made to the four L10K operational regions where two zones were selected per region and the following health facilities and communities were visited.
In each of these woredas the evaluating team discussed with zonal and woreda staff, health workers at the different levels, L10K grantees, 1 to 5 health development team leaders, and mothers in the community.
The team gave its feedback by stating that the L10K Project has overall contributed to improving the health system. L10K's community strategies such as the Community Based Data for Decision Making (CBDDM) - a community mapping tool– was also commended.
Detail report of the visiting team shall be available shortly.