Guidelines and Tools
This section includes publications that are not confidential and which may be distributed. You'll need the free Adobe Acrobat Reader program to view the PDF files on your computer.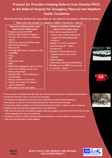 Referral Solutions Intervention-Protocol
The referral protocol is a tool the health facility providers across the different levels use to standardize referral procedures and maximize efficacy of referral by identifying who needs referral, when exactly should referral be initiated, and what support the referred client should receive in route to the referral site. The protocol will improve delays that occur at referral initiation and receiving ends and overall improve on efficiency of referral.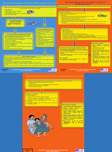 Referral Solutions Intervention-Job Aids
The job aids are meant to guide providers on emergency management of selected common emergency maternal and newborn conditions at the time of arrival to the facility and in route to the referral end.

Family Health Card (English version)
The family health card (FHC) is a tool for behavior change communication developed by the Ministry of Health of the Federal Democratic Republic of Ethiopia and its health and development partners. It contains 64 messages with illustrations focusing on pregnancy, child birth, newborn care, postnatal care, breastfeeding, complementary feeding, immunization, micronutrients, child growth and development, care for sick children, family planning, adolescent sexual and reproductive health, prevention of tuberculosis and malaria, sanitation, and hygiene. The FHC helps families carry out achievable health actions at home, and also encourages families to seek health services from nearby health facilities. Health workers (health extension workers and other health professionals) use the card to promote messages during home visits and health facility visits. The L10K project facilitates the distribution and use of the family health card by families and health workers in its project areas. In addition to the English version here, the FHC is also distributed in Amharic, Oromo, and Tigrinya. (2012)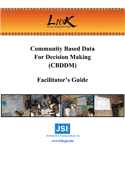 Community Based Data for Decision Making (CBDDM); Facilitator's Guide
Community-based data for decision making (CBDDM) is one of L10K's community-based strategies for mobilizing families and kebeles to improve RMNCH, whereby community level partners gather, analyze, and utilize maternal and newborn health information. The Facilitator's Guide is designed to train community leaders, such as HEWs and community health committees, to implement the CBDDM activities, orient vCHWs on activities, and facilitate community meetings. (2011)