Posters & Presentations
This section includes posters developed by L10K that are not confidential and which may be distributed. You'll need the free Adobe Acrobat Reader program to view the PDF files on your computer.
Posters were presented at academic conferences and describe the L10K program and its impacts.
Presentations explain the L10K project and its success, along with areas for coverage expansion and improvement.
Posters
Applying m-Health to Improve a Large Scale Maternal and Newborn Health Program in Ethiopia
This poster illustrates how L10K monitors and evaluates implementation of its community-based maternal and newborn health strategies using mobile phone-based data collection. It explains how field coordinators from the CSOs routinely conduct supportive supervisory visits to health posts every four months. The presentation concludes by listing positive lessons learned from online data collection and processing.

Implementing Innovative Solutions for Effective Referral for Critical Maternal and Newborn Health Conditions in Ethiopia
The poster shows how, referral is an 'under-documented', 'under-researched', and 'under-theorized' approach despite the fact that it has a crucial role in improving MNCH outcomes. With increased emphasis on health care systems and systems thinking, referral is now being prioritized more frequently internationally, and by the Ethiopian Ministry of Health. Hence, the presentation explains, how L10K is now moving forward with a 'change process' in applying referral to its MNCH strategies. The first steps taken, progress of implementation reached to-date, and lessons learnt are detailed in the presentation.

A community quality improvement approach to facilitate more respectful care for pregnant women and increase health worker-assisted deliveries in rural Ethiopia
This poster presentation details the response given to research questions on aspects of the PCQI approach that is working and those that require implementation changes and if the PCQI approach to quality improvement improves utilization of key maternal and newborn health services. Health service utilization was also analyzed. Issues that emerged during the research have been categorized and presented as benefits and challenges and recommendations. The poster presentation indicates the findings of the research for instance by explaining how PCQI increases respectful care and the relationship between HEWs and communities and then points out recommendations.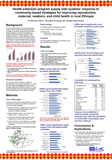 HEP Supply Side Systems' Response to Community Based Strategies for Improving RMNCH in Rural Ethiopia
This poster examines how increased demand creation for RMNCH services improves the HEP supply side factors. The poster explores improvements in the support HEWs received from vCHWs, kebele health committees, and supportive supervision. In addition, the availability of contraceptives improved while maternal health commodities remained low and require special attention.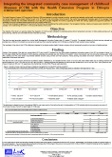 Integrating the Integrated Community Case Management of Childhood Illnesses (iCCM) with the Health Extension Program in Ethiopia
This poster examines whether the integration of iCCM with the Health Extension Program (HEP) has successfully expanded services without hampering the provision of existing services, such as family planning, maternal health, and oher child health services.

Impact of Voluntary Community Health Workers on Reproductive, Maternal & Child Health in Ethiopia
This poster indicates the impact that volunteer community health workers (vCHWs) had on reproductive, maternal, and child health (RMCH) behavioral outcomes in the four most populous regions of Ethiopia. Poster indicators are based on the baseline survey conducted by L10K in December 2008.

Impact of Community Based Primary Health Care Program in Ethiopia
This poster shows the impact of the Health Extension Program (HEP) on the family planning, maternal and child health (FPM&CH) behaviors of women in mostly rural areas. Poster indicators are based on the baseline survey conducted by L10K in December 2008.

Influence of the Health Extension Program on Environmental Sanitation in Ethiopia
The poster examines the contribution of the different components of the Health Extension Program (HEP) that are critical to improving environmental sanitation in Ethiopia and the recent studies that indicate that access to safe water and use of pit latrines has increased due to the HEP. Poster indicators are based on the baseline survey conducted by L10K in December 2008.
Presentations

The Last Ten Kilometers Project: The Past and Present
This presentation mentions how changes were seen in health projects following the introduction of the Ethiopian Government's Health Extension Program (HEP). Taking the case of L10K it explains improvements observed in the outcomes of its MNCH community strategies. It compares L10K community strategies past and present: CBDDM former community strategy with this strategy now becoming part of the L10K platform strategy. The presentation concludes by stating how the HEP has helped in the inclusion of new community health strategies of L10Ks Project for stronger MNCH outcomes.

Measuring the Effectiveness of Large-scale Reproductive, Maternal, Newborn, and Child Health Program
This presentation details a study carried out on effectiveness of RMNCH program. It looks into L10K support intensity comparing it to the health extension program outreach intensity. The presentation illustrates how both positive and negative outcomes were observed during the study: for instance, improved health outcomes as opposed to the need to revise poor community health strategies. Nonetheless, it concludes by saying that working closely with the government has improved RMNCH outcomes.

Trend in Family Planning Equity in Ethiopia from 2000–2011:Did the Health Extension Program make a difference?
This presentation describes how the introduction of the Health Extension Program (HEP) made a difference in the equity of family planning services in Ethiopia. It refers to the period between 2000 and 2005 (i.e., before HEP) comparing changes in the equity of family planning services to the period 2005 and 2011 (i.e., after HEP). Different variables were studied: percentage of women of reproductive age who want to limit or space birth; percentage of women with unmet need; and age, education, wealth and urban-rural residence. The presentation then details the findings for each variable and its implication.

Evidence based scaling-up an innovative community-based maternal and newborn health strategy in Ethiopia
This presentation describes how L10K has been testing innovative community strategies in 14 districts each to assess their added value in reaching program objectives – evidence based scale up. Community Based Data for Decision Making (CBDDM) is one of the community strategies that were tested. Baseline and midterm surveys (household and community) conducted in December 2008 and December 2010 respectively, assessed whether improvements in MNCH indicators in platform with CBDDM areas were higher than those in the platform only areas. The presentation explains that given the added value of CBDDM in achieving increased improvements in MNCH coverage how decision was made to scale up this strategy throughout L10K platform coverage area.

Changes in Family Planning Equity in Ethiopia 2005-2011
The presentation raises a question of whether changes in family planning between 2005-2011 were equitable or not? To answer the question, various methods were applied where a study of the Ethiopian Demographic and Health Surveys and comparisons of contraceptive prevalence rate (CPR) over time was made. Thus, the presentation concludes that HEP plausibly improved CPR equity in Ethiopia but there are still inequities which call for further work. It also suggests that policymakers should work to improve the inequities and monitoring should be more frequently carried out.

Enhancing Interactions between Households, Communities and Health Workers for Improving Maternal and Newborn Health: The Last Ten Kilometers Project
The presentation, which is based on research findings, looks at whether there have been improvements in MNCH behavior and practices in the L10K project areas; whether these improvements are attributable to the L10K project; and whether there is any added value of the community-based data for decision making (CBDDM) approach over the L10K core strategy. (2011)

Change in Coverage of Key Health Indicators from 2008 to 2010 in L10K Project Implementation Areas
The presentation assesses the coverage of key health indicators, identifies gaps, assesses the impact of HEP on maternal, newborn, and child health (MNCH); assesses the preliminary effects of L10K project implementation on MNCH; and assesses the interactions between HEP and L10K. (2011)